Użytkowników Online

Gości Online: 1
Brak Użytkowników Online



Zarejestrowanch Uzytkowników: 274


Najnowszy Użytkownik: tanioshkak
REKRUTACJA 2014/2015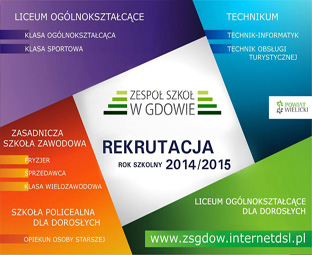 Dokumenty do pobrania:
II BIEGU KONSTYTUCJI 3 MAJA W GDOWIE
Dokumenty do pobrania:
Konkurs matematyczny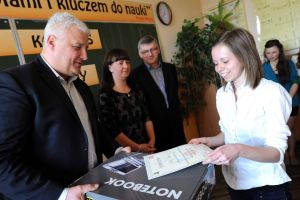 W dn. 8.04.2014 r. odbył się V Powiatowy Konkurs Matematyczny w Zespole Szkół w Gdowie. Do konkursu zgłosiło się 26 uczniów z trzech szkół ponadgimnazjalnych: LO Wieliczka, LO Franciszkanów Wieliczka i Zespół Szkół w Gdowie. W kategorii klasy 1 - zakres podstawowy rywalizowało 14 uczniów. Najlepsza trójka to uczniowie LO Wieliczka : Wojciech Góralczyk- I miejsce, Marlena Slazyk – II miejsce, Karolina Wełna – III miejsce. W kategorii klasy 2 – zakres podstawy konkurowało 8 uczniów. Najlepsi w tej kategorii to : Jakub Porębski - LO Wieliczka, Kinga Błoniarz - Lo Wieliczka , Andrzej Nickowski – LO Franciszkanów Wieliczka. W kategorii klasy 2 – zakres rozszerzony zmierzyło się dwóch uczniów- I miejsce zdobyła Anita Popek – LO Wieliczka. W kategorii klasy 3 – zakres podstawowy również dwóch uczniów sprawdzało swoje matematyczne możliwości. Najlepszym okazał się Krzysztof Stopka – Zespół Szkół w Gdowie.
Bezkonkurencyjną okazała się Anita Popek uczennica Liceum Ogólnokształcącego w Wieliczce, która zdobyła tytuł Najlepsza z Najlepszych Matematyków powiatu wielickiego i stała się właścicielką laptopa ufundowanego przez Starostwo Powiatowe w Wieliczce.
Zwycięzcy poszczególnych kategorii zostali nagrodzeni tabletami.

Spotkanie z rodzicami

Dyrektor szkoły informuje,
że 9 IV 2014 r (środa) o godz.1730 odbędzie się zebranie z rodzicami.
Ogłoszenie o wyborze oferty
ZSG. 081/1/14 Gdów, dnia 9 kwietnia 2014 r.
Ogłoszenie o wyniku postępowania o udzielenie zamówienia publicznego, prowadzonego w trybie przetargu nieograniczonego na:
,,Zakup usług organizacji zajęć z zakresu kompetencji kluczowych w ramach realizacji projektu pn. W poszukiwaniu straconego czasu – zajęcia dziennikarskie i doradztwo zawodowe''
Szczegółowe informacje
Szybki kontakt
Zespół Szkół w Gdowie
32-420 Gdów 405
NIP: 683-14-23-491
tel. 12 451 44 58
fax. 12 251 40 61
napisz do nas
Logowanie
Nie jesteś jeszcze naszym Użytkownikiem?
Kilknij TUTAJ
żeby się zarejestrować.
Zapomniane hasło?
Wyślemy nowe, kliknij
TUTAJ
.
Projekty unijne